Messages from the Developers
Thoughts for Exastro
 Koichi Yoshida
Systems are progressively getting more complicated while human resources are reducing
What happens when tasks increases when there is a lack of human resources? All the additional work will be left to the current engineers, causing a wave of fatigued workers. I don't think any young people would look at an overworked engineer and think "I want to be an engineer!". Humans tends to admire positions and jobs where the workers are working smart, fast and stylish.
Exastro does not only allow users to free themselves from a chain of troubles. We believe that it can play an important role in initiatives for expanding businesses.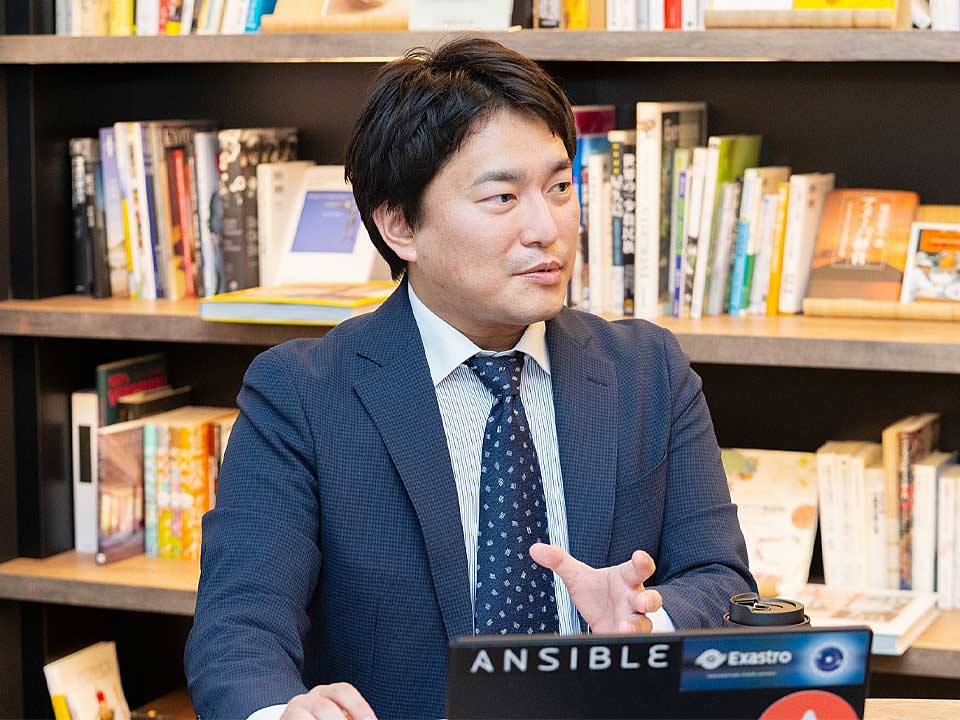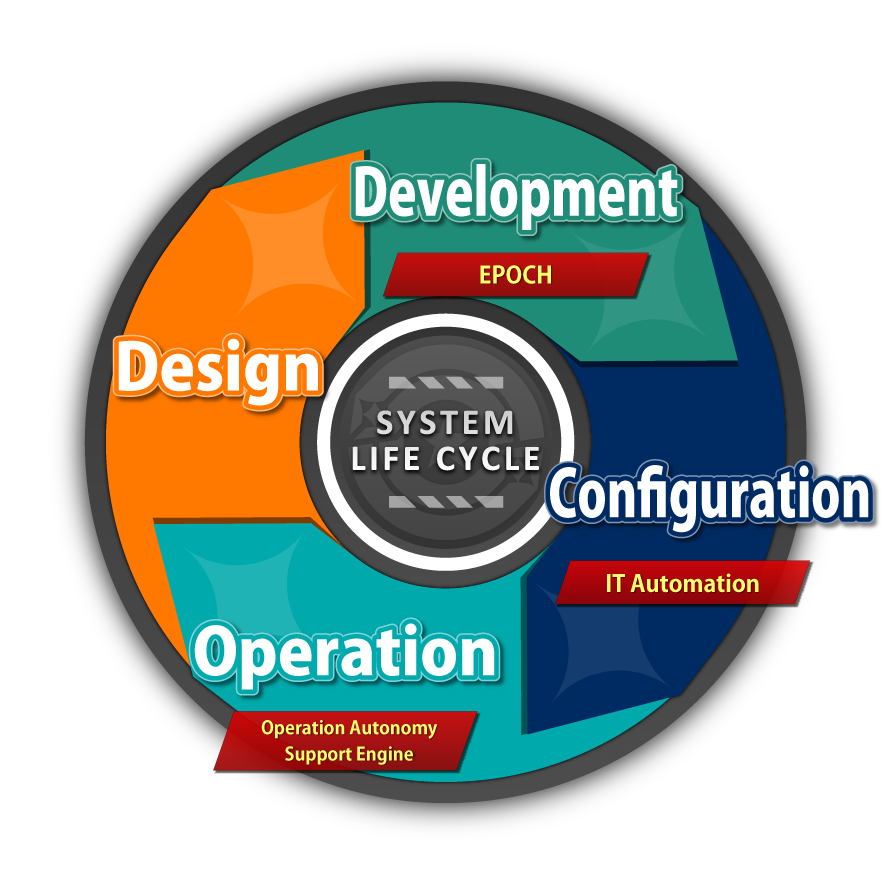 Exastro optimizes System life cycles (Design, Development,
Configuration and Operation) which supports DX (Digital
Transformation)
What can we gain by optimizing the System life cycle?
Exastro fixes these problems.
Lack of human resources

Don't know when errors might occur
Have to add more people for review process
System is individualistic, so the supervisor can't take sudden days off
Speed

The system is too complicated to know what was affected.
The team cannot advance before they synthesized and considered the information from various people
We don't have the resources to implement a new system
Reduces Human errors

The system information is all over the place, causing mistakes to happen when information is missing
The settings are complicated and hard to check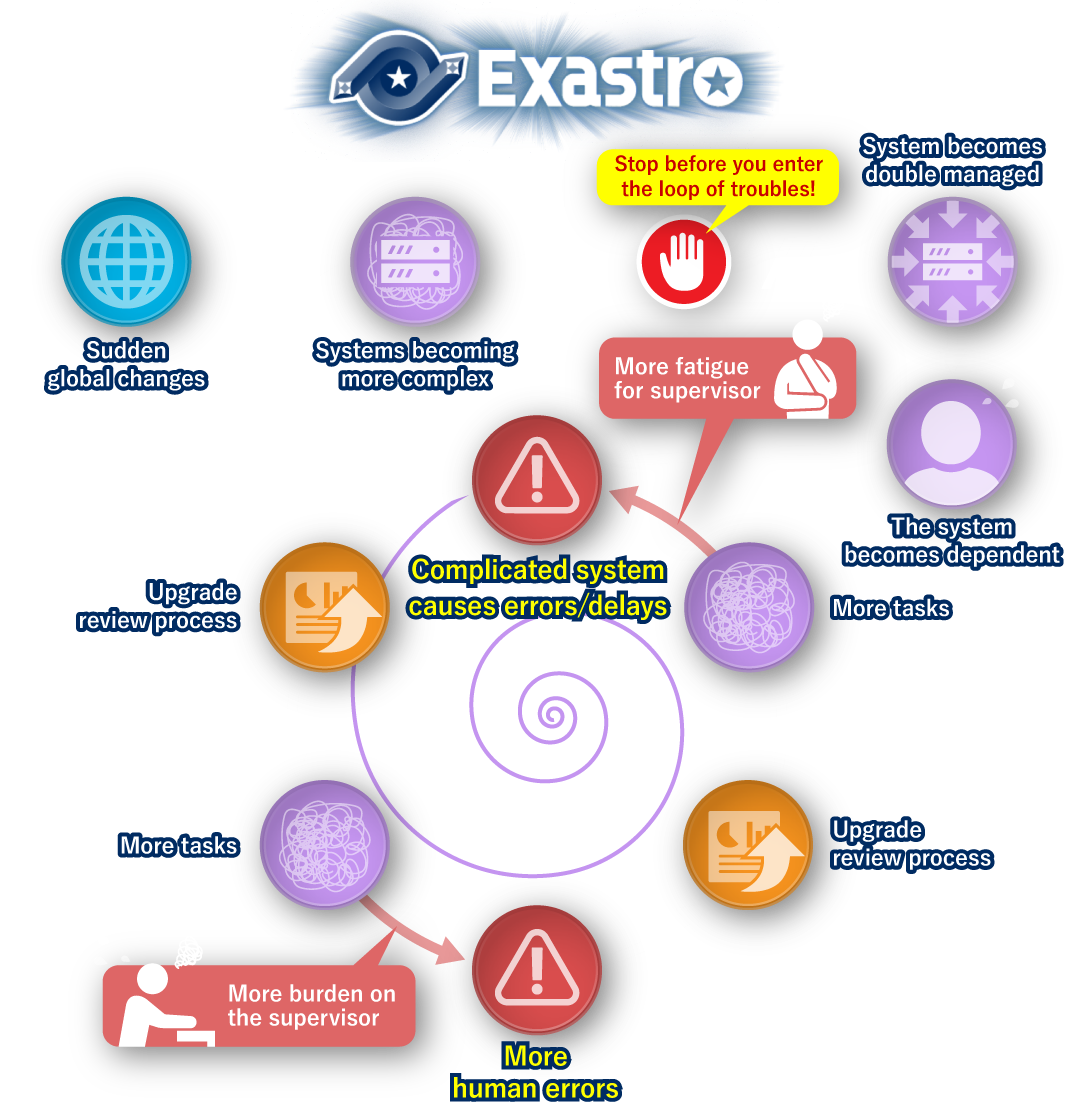 Exastro Suite
Exastro IT AutomationSpecialized to Construct systems

Exastro IT Automation is a software created to Automate, Optimize and Improve labor-saving for System construction operations.
When building systems, the beginning is one of the most vital parts!
Just like a normal building, a system without properly managed environment settings will only be more unstable the bigger it gets. Use ITA to create a strong foundation that will be able to handle big and expandable applications.
ITA uses a single UI designed for System Engineers. User's can put in Parameters in to the interface and start constructing right away! There is no longer need to learn how to use the different programs when making new systems.
Exastro OASE(Operation Autonomy
Support Engine)Specialized for System operations.

Exastro Operation Autonomy Support Engine is a software created to Automate, Optimize and Improve Labor-saving for System operations.
Centrally manage all know-how related to System operations and use them as rules to automatically decide what to do with received Operation information. It can also control Exastro IT Automation and other automation software, meaning that it can automate the decided restoration action as well.
Exastro EPOCHSpecialized for System development
Speed up Cloud native application development
Why isn't Cloud native app development, which everyone says is so good, flourishing? That is the focus of Exastro EPOCH.
This app is a framework created to deliver environments for fast app development/deployment. It provides environments together with processes for supporting cloud native application development.
Installing Exastro
Step 01

Download the Install manuals

No registration needed

Step 02

Check the install requirements

Download for free

Step 03

Go to GitHub

Start as small as you want

Step 04

Download and install required contents

Paid support for those who need.

Step 05

Try it out!
This Software Suite is Open Source with no usage limits!
But we want to hear what you have to say.
Help us make Exastro better.
Send us any technical questions and comments through an issue
FAQ Regarding Exastro
Frequently asked questions
01

IT Automation
02

IT Automation